Meet our Providers

Meet Dr. Donald Thigpen, Dr. Caitlin Timmons & Dr. Jerry Gentry

Donald Thigpen, DC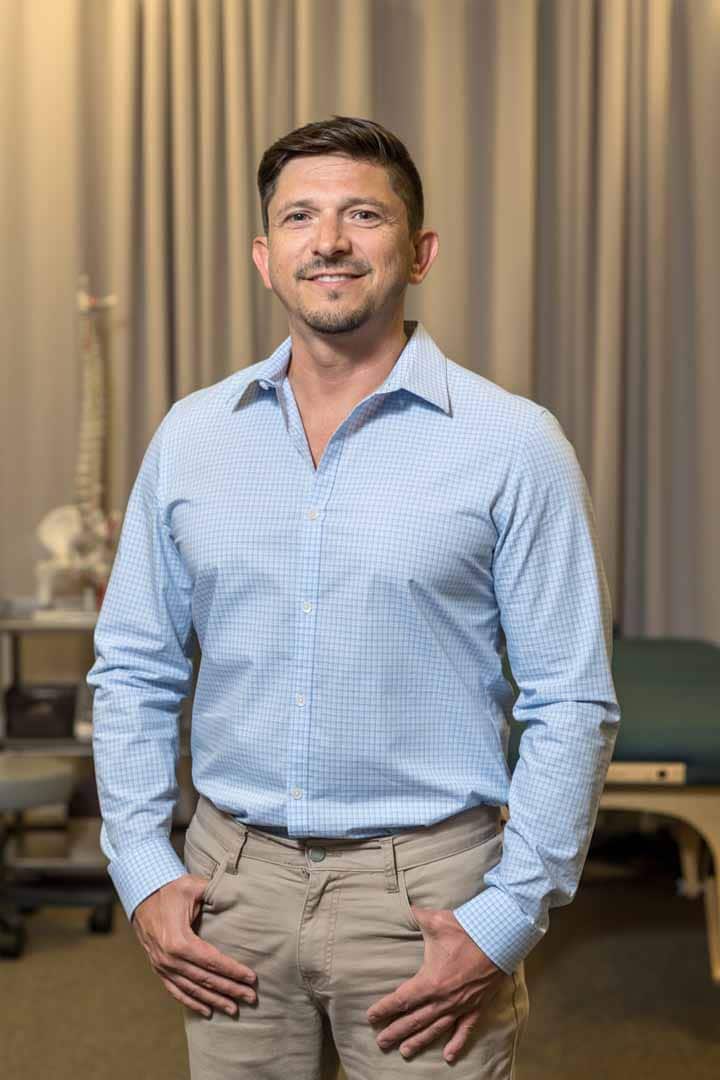 Dr. Donald Thigpen is a graduate of Texas Chiropractic College and has been a licensed Doctor of Chiropractic since 2004. He specializes in non-surgical treatment of conditions related to the neck, back, and musculoskeletal system and also in natural medicine for overall health and wellness. As a Doctor of Chiropractic, he is a certified Spinal Decompression Practitioner and is also certified in Whiplash Biomechanics & Traumatology through Dr. Arthur Croft's Spine Research Institute of San Diego. Dr. Thigpen has completed NEI (Neuro-Endo-Immune) certification along with certifications in Functional Endocrinology: A 21st Century Approach to Thyroid & Adrenal Disorders and the Diobesity Epidemic; 21st Century Epidemics: Autoimmune, Lyme, and Stealth Infectious Disease. In addition to these certifications, he has completed many other additional hours of training in the arena of natural medicine.

Dr. Thigpen received his Doctor of Chiropractic degree from Texas Chiropractic College and was valedictorian of his graduating class. While at Texas Chiropractic College, he received an extensive education in human anatomy, physiology, pathology, and other clinical and biological sciences. In May of 2001, under the direction of Dr. Bill McGimsey, Ph.D., Dr. Thigpen was appointed to the position of gross anatomy lab instructor and assisted students in the dissection of human cadavers. He retained this position for 2 years performing dissections on over 150 human cadavers. In January of 2002, under the direction of Dr. Hasnaa Shafik, M.D., Ph.D, Dr. Thigpen was appointed to the position of histopathology lab instructor where he assisted students in the microscopic identification of human tissues and diseases.



Dr. Thigpen's experience includes a chiropractic internship along with medical rotations in neurosurgery and rheumatology. His rotation in neurosurgery was conducted under the supervision of Dr. Edward Murphy, M.D., at St. Joseph's Hospital in Houston, Texas. During his rotation in neurosurgery, Dr. Thigpen assisted Dr. Murphy with neurological examinations, observed and assisted in surgery, and received extensive instruction on neurological conditions, brain MRIs, and spine MRIs. His rotation in rheumatology was conducted under the supervision of Dr. Martin Lidsky, M.D., at the Veteran's Affair's Medical Center in Houston, Texas. Under the instruction of Dr. Lidsky, Dr. Thigpen gained valuable knowledge and experience on the proper evaluation and diagnosis of many arthritic and rheumatic conditions.

Prior to attending Texas Chiropractic College in Houston, Texas, Dr. Thigpen completed his undergraduate studies at McNeese State University in Lake Charles, Louisiana. In May of 2000, he graduated cum laude and received a Bachelor of Science degree in pre-medical biological sciences. While at MSU, because of his academic standing, he was selected by MSU faculty to participate in the Senior Honors Thesis research project, which he completed under the direction of Dr. Ray Neyland, Ph.D.

From 2004 to 2008, in addition to a full time practice as a doctor of chiropractic, Dr. Thigpen was an instructor for the Louisiana Institute of Massage Therapy where he taught human anatomy, physiology, and pathology. Dr. Thigpen is also an Elsevier reviewer and has been recognized in three text books for his contributions. You can find him listed as a contributing editor and reviewer in Mosby's Pathology for Massage Therapists 2nd Edition, Massage Therapy Principles and Practice 3rd Edition and Massage Therapy Principles and Practice 4th Edition.

Dr. Thigpen is a member of the Texas Chiropractic Association, American Chiropractic Association, Pastoral Medical Association, Better Business Bureau, Business Network International, and the Woodlands Area Chamber of Commerce.
Caitlin Timmons, DC, RN, BSN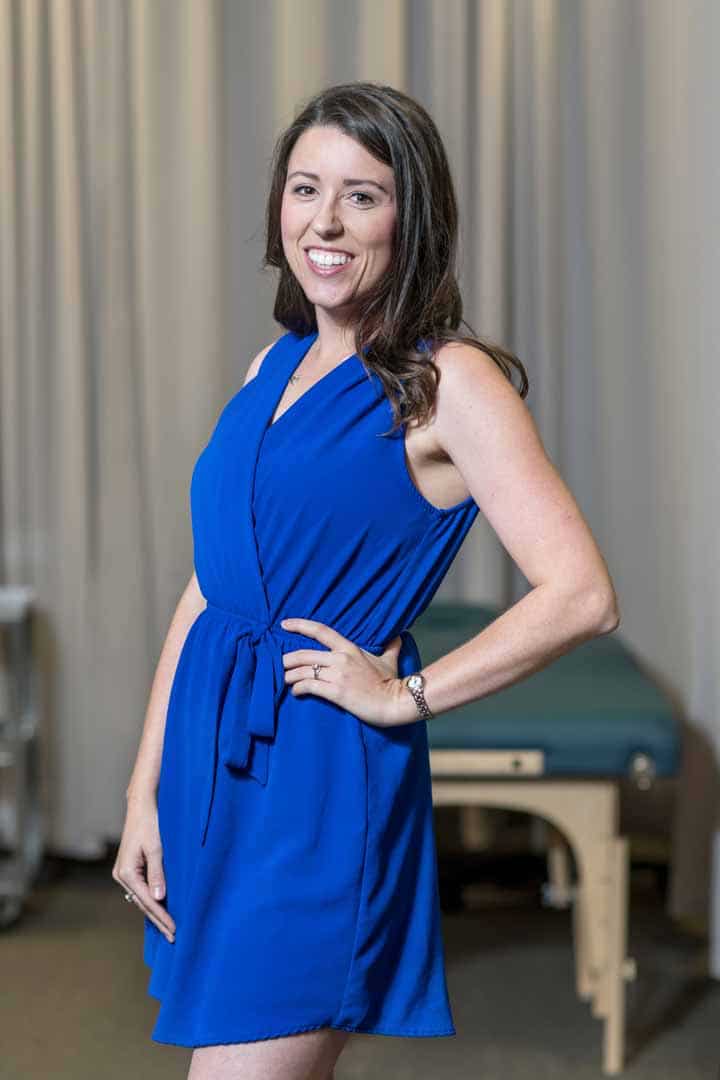 Dr. Caitlin Timmons grew up in a military family and she has lived in 4 countries and 4 states. She earned her Bachelor of Science in Nursing from Northwestern State University and obtained her Registered Nurse License in Texas in January of 2016. Upon graduation, she moved to Pasadena, Texas to worked on a stroke immediate care unit. She became NIH Stroke certified in 2016.

Dr. Timmons continued her education at Texas Chiropractic College where she graduated Salutatorian of her class. She received academic recognition and was a member of the honor society, Omega Psi. Dr. Timmons was awarded the student Keller award. This award is given to one member of each graduating class to represent the student who has devoted the highest level of selfless service while maintaining academic excellence throughout the entire program.

During her studies, Dr. Timmons completed her internship at the Moody Health Center in Pasadena, Tx. While in school, she completed a rotation with The Bridge of Troubled Waters to provide care to women and child who were victims of domestic abuse. She also competed a rotation through University of Houston in Clear lake where she treated student athletes, staff and faculty. Another Rotation was through Kirkwood's family practice where she worked with fourth year medical students, physician assistant students, Doctor of osteopathic students, and nurse practitioner students to fortify their diagnostic knowledge for musculoskeletal conditions. During her rotations, she treated over 500 patients.
With a decade of education dedicated to studying the human body, Dr. Timmons is highly qualified to provide the Woodlands Community with exceptional chiropractic care. Dr. Timmons is trained in FAKTR (an instrument assisted soft tissue technique) and Webster Technique (a method to optimize the function of the lower back and pelvis's biomechanics during pregnancy).

Her mission is to help patients break their pain cycle and take control of their health. She will provide treatment that optimizes every patient's function and wellbeing. She believes in a healthy lifestyle and has a passion for educating patients on the best methods to live their healthiest life. Dr. Timmons treats all ages and she would love to treat your entire family from birth through all stages of life.

Dr. Timmons is a member of the Texas Chiropractic Association, American Chiropractic Association and Business Network International.
Brett Baer, DPT, PT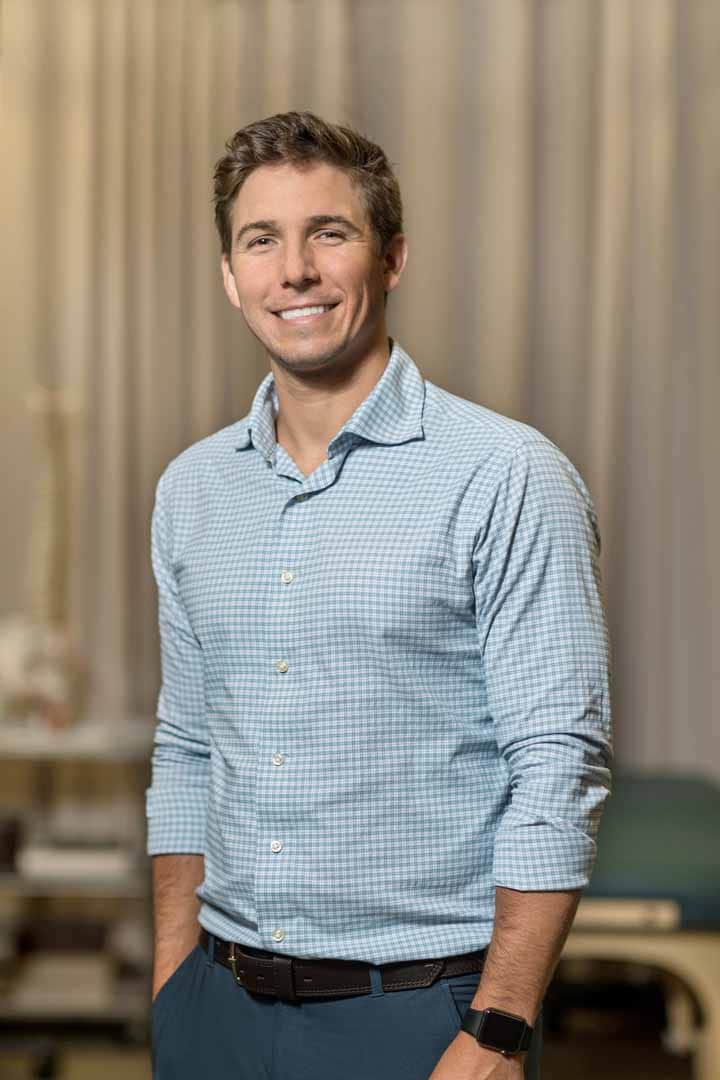 Brett Baer, DPT, PT, is a physical therapist practicing at Houston Spine & Rehabilitation Centers in The Woodlands, Texas. Known for his contagiously happy smile and cheerful, outgoing personality, Dr. Baer is passionate about helping his patients get back to their day-to-day lifestyle and live pain-free.

Originally from Brandon, Mississippi, Dr. Baer pursued his Bachelor of Arts in kinesiology with an emphasis in exercise science at the University of Louisiana at Lafayette, where he also received a football scholarship. Upon graduation, he signed on as a free agent for the St. Louis Rams for their 2013 preseason, serving as the team's kicker. Dr. Baer later earned his Doctor of Physical Therapy in 2017 from the University of St. Augustine for Health Sciences in Austin, Texas.

Dr. Baer enjoys treating various musculoskeletal injuries from extremities to back pain. He specializes in manual therapy and is certified in functional dry needling for treating various musculoskeletal injuries.

When he is not practicing medicine, Dr. Baer remains an avid fan of any and all sporting events, especially University of Louisiana football games, weight lifting, and golfing. He also loves spending time with his beautiful wife, Lauren, and their daughter, Britton.
Jerry Gentry, MD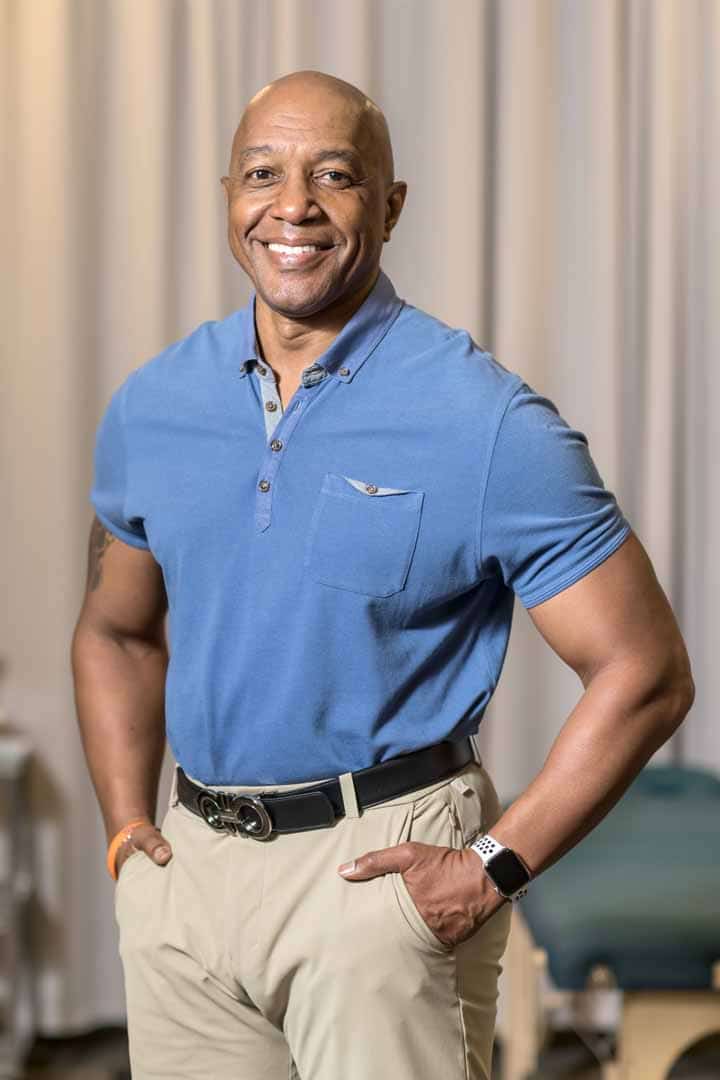 Jerry Gentry, MD, is an interventional pain management physician at Houston Spine & Rehabilitation Centers, serving patients in The Woodlands, Houston, and Sugar Land, Texas. Dr. Gentry has been practicing for over 30 years and brings empathy and expertise to patients seeking pain relief and rehabilitation. His treatment philosophy revolves around treating the body as a whole, through mind, body, and spirit.

Dr. Gentry earned his bachelor's degree in chemistry from the University of Mississippi in Oxford, Mississippi, where he joined the United States Navy and graduated Cum Laude in 1984. He received his Doctor of Medicine from Howard University College of Medicine in Washington, DC, in 1988, and then began a general surgery internship at the National Naval Medical Center in Bethesda, Maryland.

Dr. Gentry served as a naval officer for 12 years, serving in leadership roles across several naval hospitals and health care facilities, all while providing emergency and primary care services for active-duty personnel and patients of various demographics. He eventually reached the rank of Lieutenant Commander and received three Naval Achievement medals for his stellar service.

In addition to his clinical experience in hospitals, Dr. Gentry also has over 17 years of experience as a ringside physician at professional boxing and MMA events. Dr. Gentry is also committed to health and fitness outside of work. He is a male physique competitor, a fitness enthusiast, and enjoys power flow yoga and dancing. Dr. Gentry is a proud father to his three children, Madison, Jerrod, and MaKenna.

Dr. Gentry is a proud member of the Harris County Medical Association.